And for your lifeblood I will require a reckoning: from every beast I will require it and from man. From his fellow man I will require a reckoning for the life of man. "Whoever sheds the blood of man, by man shall his blood be shed, for God made man in his own image. Genesis 9:5-6 (The Israel Bible™)
Lt. Hadar Goldin's family demonstrated outside the UN headquarters in Jerusalem on Wednesday morning, protesting the fact their son's remains are still being held by Hamas in Gaza.
Exactly four year after he was killed by Hamas fighters who ambushed his force during a ceasefire in the summer of 2014, the Goldin family began their protest with a minute of silence, broken only by the sound of the shofar.
Leah Goldin, the fallen soldier's mother, addressed her comments to UN Envoy to the Middle East Nickolay Mladenov.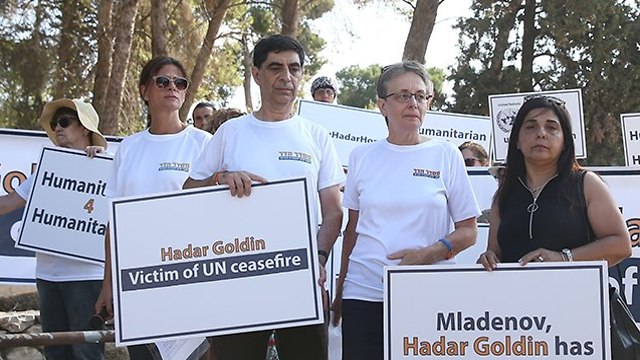 "We're here to condemn the violation of human rights and international law, to condemn the four years of silence that has allowed this culture of exemption from punishment. We're here to note the ongoing failure in ascribing responsibility, which also emboldens those responsible for the humanitarian situation in Gaza," Goldin said.
Dr. Simacha Goldin, Hadar's father, also condemned "the UN's breach of responsibility. It organized a humanitarian ceasefire, but under this ceasefire my son was killed and kidnapped, and two other Givati soldiers were killed. All of this, the UN has forgotten. It doesn't mention any of this. The UN representative has the audacity to wander around the region and bring billions with him (to the Gaza Strip)."
"We will make sure that before anything else, first and foremost, Hadar and Oron (Shaul) will be returned. None of the UN's money will go into Gaza before that," he vowed.
[wpipa id="94167″]
Leah Goldin wrote a letter to Mladenov that will be delivered to him through security officials.
"Today we mark the fourth anniversary of the death and kidnapping of my son, Hadar Goldin, and the death of Liel Gidoni and Benaya Sarel, during the 'humanitarian ceasefire' on August 1, 2014, signed by the UN," she wrote. "My son was not a victim of the war in Gaza, but of the humanitarian ceasefire supported by the UN. We demand the right to carry out the final act of human dignity, the right for proper burial."
The fallen officer's mother harshly attacked UN Envoy Mladenov, telling him, "Even though your'e very concerned about the humanitarian situation in Gaza, I've never heard you call for the return of Hadar for Israel for proper burial, in line with basic human decency, Jewish tradition, Islamic law and international humanitarian law."
She called on the UN to "treat harshly a regime that ignores the rule of law so blatantly. Those who fail to do so are actually collaborating with them."
She concluded her letter by calling on the UN to aid in returning her son for burial in Israel.
"As a representative of UN institutions, who is committed to promoting human rights in the Gaza Strip, your job is to demand Hamas and
the Palestinian Authority to remedy the violation of international human rights and humanitarian law, and put an end to this culture of immunity and exemption from punishment. To protect the law and the UN institutions and to truly promote human rights in Gaza and the region, Hadar must be brought back home from Gaza immediately and without conditions," Leah Goldin wrote to Mladenov.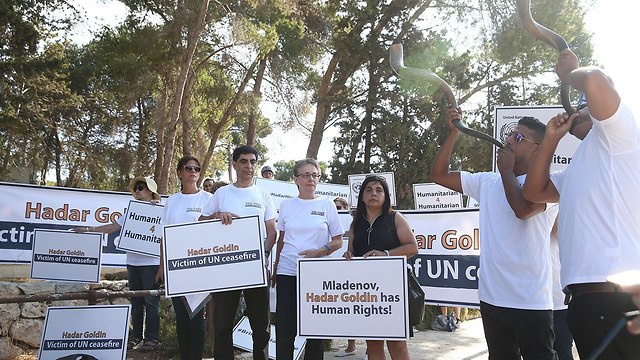 Last week, Leah Goldin and Zehava Shaul—mother of Staff Sgt. Oron Shaul, who suffered a similar fate to Goldin's—arrived at the IDF induction center in Tel HaShomer as part of the public and media campaign to return their sons for burial in Israel.
The two mothers handed out flowers to hundreds of new recruits to the Golani and Givati brigades, where Hadar and Oron served.
"We are here so what happened to us, after four years, will never happen to any soldier in the IDF," Goldin told Ynet.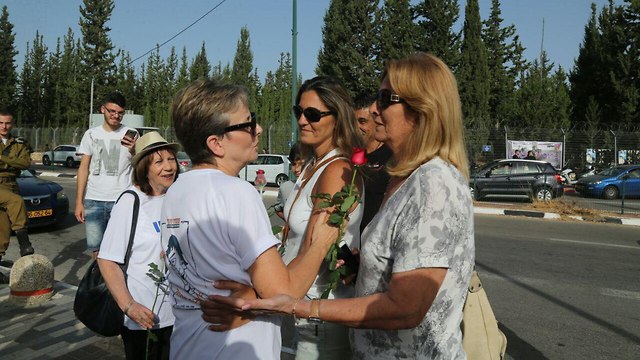 She criticized Prime Minister Benjamin Netanyahu, saying, "The most important value in the army is that of camaraderie: you don't leave soldiers in the field of battle. You bring them back under any situation. You left two excelling soldiers in Gaza."
"After disappointing us with the Cairo agreement and the Turkish agreement, now we have the most significant opportunity—when Hamas is at its lowest point and all nations of the world are helping—to set the first condition to any progress in talks as the return of the soldiers. Show them you can, like Trump, like he released the hostages in North Korea before (making concessions). That's how it should be here."
As reported by Ynet news